Sun pitcher plant (Heliamphora)
Sun pitcher plant (Heliamphora)Sun pitcher plants look very special with their distinctive cups. This species performs perfectly indoors and will keep surprising you.
INSECT-EATING PLANT

€ 11,99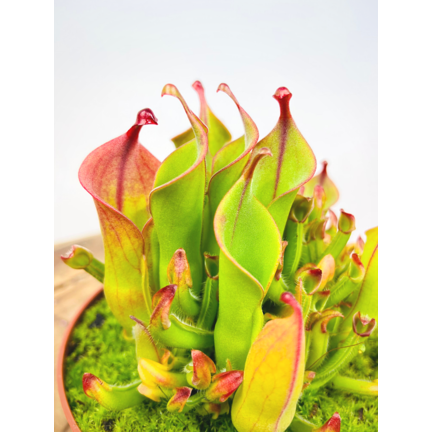 Habitat and occurrence
The Heliamphora is native to the highlands of South America, mainly in Venezuela, Guyana and Brazil. These plants grow best in moist, cool environments such as mountainous rainforests. They are often found on steep slopes where water can drain quickly, providing high humidity and a constant moisture supply.
The Heliamphora has a distinctive appearance, with long slender cups growing from a central rosette of leaves. These cups can vary in size, colour and shape, depending on the species. Some cups are small and compact, while other species have long and narrow cups. The colour of the cups ranges from yellow-green to deep purple, and some species even have beautiful red or orange hues. The inside of the cups is covered with sticky hairs that hold small insects.
Nutrition
Like other pitcher plants, a Heliamphora catches small insects in its pitchers. These insects are attracted by the scents and colours of the cups, and once inside, they are held by the sticky hairs. The Heliamphora uses these insects as a food source, as the soil on which it grows is often poor in nutrients.
Care
The Heliamphora loves high humidity. Place your plant in a room with high humidity. In addition, give your Heliamphora distilled water or rainwater. This can be done with a bowl of water. Make sure your plant has holes in the bottom of the pot so the water can be absorbed by the plant.
A Heliamphora grows best at an average temperature between 15°C and 25°C. It is important not to put the plant in direct sunlight, because direct sunlight can burn your plant's leaves. Preferably place your Heliamphora in a bright but not too sunny spot, for instance near a north-facing window.
In most cases, your Heliamphora will take care of its own nutrition. However, if your Heliamphora is in a place in the house where there are almost no insects, you can feed an insect to the plant in the worst case scenario. Make sure not to touch the cups of your Heliamphora. This way, you avoid possible damage.
Would you like to know more about caring for your carnivorous plant? Then read our extensive blog.
Conclusion
We at Carnivory.eu agree that keeping a carnivorous plant such as the Heliamphora is an extremely fascinating hobby. Especially if you can give your Heliamphora the optimal living conditions, you will see a happy and beautiful plant grow and bloom, which you in turn can enjoy immensely.
So we would like to share this hobby with everyone. If you have always wanted a Heliamphora, be sure to have a look at our product range.
Read more
Close