Top 20 carnivorous plants
Would you like to buy a carnivorous plant, but can't quite decide? Check out this category with the best sellers and choose your favourite carnivorous plant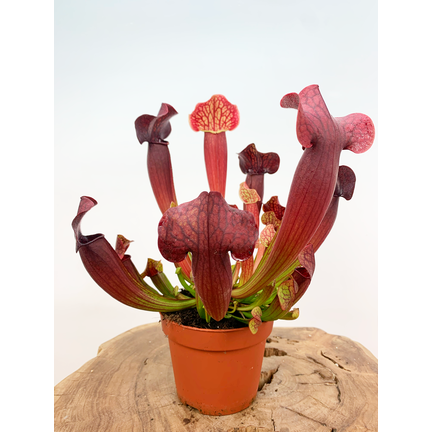 Would you like to buy a carnivorous plant, but can't quite decide? Check out this category with the best sellers and choose your favourite carnivorous plant
Welcome to Carnivory.eu, your place for an extensive collection of carnivorous plants. These special plants have occupied a fascinating and special position in the plant kingdom, and our collection of the top 20 carnivorous plants invites you to explore this wonderful environment.
A new twist in the food chain
The unique and surprising role division in nature of carnivorous plants provides an interesting twist in the traditional food chain. These extraordinary plants have adapted impressively to grow in nutrient-poor environments and get their nourishment from an unusual source, insects and sometimes even larger prey.
The power of evolution
The varietyof carnivorous plants on Carnivory.eu is a testament to the extraordinary adaptability of nature.
Some of these plants, such as the Venus Flytrap, have evolved a trap mechanism that quickly snaps shut when prey walks on its hairs. In addition, it is also exceptional in the plant world that a plant like the Venus Flytrap can count. What do we mean by this?
The Venus Flytrap has hairs inside its mouth. When an insect walks over it and moves the hairs twice within 20 seconds, the trap closes. Should this not happen within 20 seconds, the trap resets itself.
The pitcher plant process looks like this: The insect lands on the cup, the insect's legs land on smooth grooves which are located in the rim of the cup, the insect thus loses its grip and falls into the cup. The hairs inside the cup are firm and prevent the insect from flying out again. The cup eventually fills itself with enzymesthat digest the insect.
The Sundew, also known as Drosera use yet another completely new trap structure. Namely, the Sundew uses sticky droplets to secure its prey. The Sundew wraps itself around the prey, so to speak, to start the digestion process.
The beauty of carnivorous plants
Besides their impressive hunting techniques, carnivorous plants are also incredibly beautiful. The unique shapes, beautiful colours and striking diversity give you a true spectacle to watch.
The beautiful world of carnivorous plants
At Carnivory.eu, we love to tell you about the beautiful world of the carnivorous plant with passion and pleasure. Take a look around our website and discover our top 20 carnivorous plants, each of which tells its own story of evolution, survival and beauty. Are you just starting out with carnivorous plants or are you already an avid collector? We have a wonderful range for everyone. Take a look at our assortmenttoday and order your favourite carnivorous plant on Carnivory.eu.
Read more
Close
INSECT-EATING PLANT

10% Save

€ 49,99 € 44,99

INSECT-EATING PLANT

17% Save

€ 22,99 € 18,99

INSECT-EATING PLANT

€ 9,99

INSECT-EATING PLANT

€ 11,99

INSECT-EATING PLANT

11% Save

€ 17,99 € 15,99

INSECT-EATING PLANT

€ 9,99

INSECT-EATING PLANT

14% Save

€ 13,99 € 11,99

FLYTRAP

€ 9,99

INSECT-EATING PLANT

€ 17,99

€ 9,99

INSECT-EATING PLANT

10% Save

€ 19,95 € 17,95

Shipping to the whole EU
Best quality: directly from nursury
Shipped within in 1 working day