Sundew (Drosera)
With sticky traps, beautiful colours and unusual shapes, this carnivorous plant cannot be missed in your home. This species can be kept perfectly in your home and will continue to surprise you.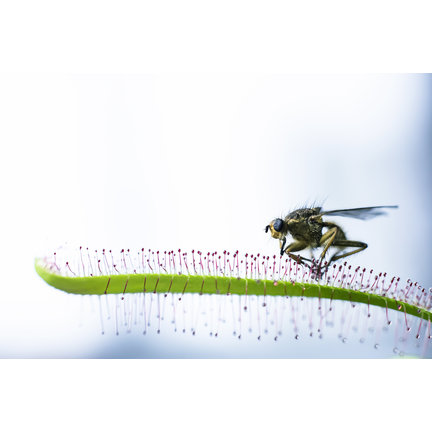 The sundew (Drosera) belongs to the sundew family. This family has around two hundred species. The name Drosera comes from Ancient Greek 'drosos', which means dew. The sundew owes its special name to its unique appearance. The sundew consists of small leaves with hairs on the sides. On these hairs are small drops, which remind one of morning dew.
Drosera: The fall
As already described above, the sundew consists of many stems with small leaves on which there are hairs. At the tips of the hairs there is a thickening; this produces a sticky secretion in the form of small droplets. These droplets attract insects, such as mosquitoes. The Drosera, together with Pinguicula, are one of the only carnivorous plants that catch mosquitoes! The insects see the droplets as an easy meal. Nothing could be further from the truth... When the insect lands on the leaf and comes into contact with the droplets, they will stick to it. In response, the insect will try to escape, but the more it moves, the more the sundew will 'grab' it. When the insect is completely stuck, the sundew rolls the leaf around the prey. Its secretions (enzymes) digest the prey and absorb the nutritional juices.
Sundew origin
The sundew occurs all over the world, even in areas in the Netherlands and Belgium (just like vetch). There is only one place where the plant is not found, and that is Antarctica. Most sundew plants live in swampy areas, but a few can also be found in dry areas.
Features of the sundew
The sundew can grow to a size of 1 to 10 centimetres. The plant can withstand a mild winter, just like the Venus flytrap (Dionaea Muscipula) and the Trumpet Cup plant (Sarracenia). The sundew species offered in this web shop are tropical sundew species. They do not need a winter rest and can be placed on a sunny windowsill in the house all year round. The plant needs sufficient moisture and light. It is important that the plant is kept well moist.
Would you like to buy a sundew? Then take a look at our assortment of carnivorous plants.
Read more
Close