Australian pitcher plant (Cephalotus Follicularis)
Always wanted a special carnivorous plant? Our Cephalotus Follicularis is one of the rarer species you can find.
INSECT-EATING PLANT

8% Save

€ 11,99 € 10,99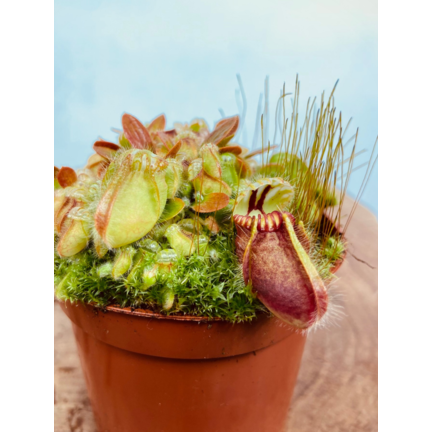 The Australian pitcher plant, also known as the (Cephalotus follicularis), is a rare carnivorous plant that originated in South-West Australia. The rareplant is known for its unique pitcher traps which catch and digest insects. This is where they get the nutrients they need to grow. In this category, we will talk about its characteristics, habitat, nutrition and much more.
How do you recognise this Australian pitcher plant?
Every carnivorous plant naturally has its own characteristic features. The Cephalotus is no exception. This beautiful plant has perhaps the most unique characteristics of them all. Why do I say that? This plant eyes totally different from the rest of the carnivorous plants.
Shape and size
Cephalotus follicularis often grows no larger than 10 to 15 centimetres in diameter. The traps also vary in size, often growing no larger than 1 to 5 centimetres. Incidentally, this all depends on the health of the plant. The cups have a beautifulbright green colour with red spots. In addition, a Cepalotus can also be recognised by their characteristic lid.
Leaves
The Cephalotus has two types of leaves. The leaves that do not process meat, these are the oblong leaves and then you have the cup-shaped leaves, you probably guessed it these are the carnivorous leaves.
These cups are used to trap and digest insects. The leaves that don't process insects also have an important function. This is photosynthesis, these leaves provide the plant with energy.
Traps
Cephalotus follicularis hair traps are unique among carnivorous plant species. They have a tubular structure with a lid at the top, which serves to keep rainwater out. The inside of the trap is covered with tiny hairs that point downwards, making it difficult for insects to escape. The trap contains enzymes and bacteria that help digest the captured insect.
Cephalotus' natural habitat
The Australian pitcher plant can be found in the swamps, moorlands and woodlands of Western Australia. Like all carnivorous plants, the Cephalotus wants acidic and moist soil. You can find the Cephalotus mainly in places with a lot of shade
In what ways does the Cephalotus reproduce?
The Australian pitcher plant bears both male and female flowers. These flowers are small and inconspicuous, and are usually produced in spring. The plant is pollinated by insects such as: flies and bees, which are attracted by the scent and colour of the flowers. After pollination, the flowers develop into small, round fruits containing numerous small seeds.
Besides the usual reproduction, Cephalotus can also reproduce vegatively. Vegative reproduction is the main mode of reproduction for the Cephalotus. So how does this work? The plant does this by means of rhizomes. This means that the Cephalotus has an offshoot running under the ground which eventually grows into a new plant. The reason this way is favourite for Cephalotus is because the seeds are quite rare and also low in germination.
What soil and how much water does my Cephalotus need?
The Australian pitcher plant, like all carnivorous plants, needs acidic and moist soil to grow. For this, use a mixture of 50% peat and 50% perlite. Make sure that the plant's soil is always moist, but avoid drenching the soil to prevent root rot. For carnivorous plants, only use distilled, rain or osmosis water, as tap water often contains harmful minerals and excess lime.
What temperature and how much light does my Cephalotus need?
Cephalotus loves light and needs it to grow well. Below we have put down some advice to support the Cephalotus as well as possible.
Light: Preferably place the plant in a sunny spot. However, keep in mind that the Cephalotus does not undergo large temperature fluctuations. The same applies to the Cephalotus as to other carnivorous plants. If you do not have enough access to sunlight, use an LED grow light. This will provide your Cephalotus with enough light to grow.
Temperature: Cephalotus follicularis is hardy in Australia, but not in the Netherlands. Do not bring your plant outside at temperatures below 15 degrees Celsius. Above 15 degrees Celsius is always allowed, but when the temperature drops below 15 degrees Celsius, it is wise to bring your plant inside again. Would you like to know more about the winter dormancy of carnivorous plants? Then read this blog.
How should I prune and maintain my Cephalotus?
Prune a Cephalotus with some regularity, this lets the little plant feel at its best at all times. When the cup plant does not have to focus on older leaves, it can use its energy to grow. We have a few tips for you to best maintain your Australian Cup plant:
Leaf check: Check your Cephalotus regularly for dead or diseased leaves. Pay attention to the following two important things when pruning:
Only use clean tools to prune your plant, as this can prevent some infections.
In addition, cut or trim as close to the base of the plant as possible to avoid any complications.
Remove old cups: Cups of a Cephalotus deteriorate in time especially if they actively catch insects. Be extremely careful when removing the old cups, only cut them off with clean and sharp pruning shears.
Conclusion
With these tips and proper care, the Australian pitcher plant can be a wonderful addition to your carnivorous plant collection. This rare carnivorous plant species can grow into a wonderful talking point.
We at Carnivory.eu agree that keeping a carnivorous plant like the Australian pitcher plant is an extremely fascinating hobby. Especially when you can give your Cephalotus follicularis the optimal living conditions, you will see a happy and beautiful plant grow and bloom, which you in turn can enjoy immensely.
So we would like to share this hobby with everyone. If you have always wanted an Australian pitcher plant, be sure to have a look at our product range.
Read more
Close