Butterbur (Pinguicula)
With sticky leaves, beautiful pink flowers and an interesting fall, the Pinguicula will become your favourite carnivorous plant. Check out the range now.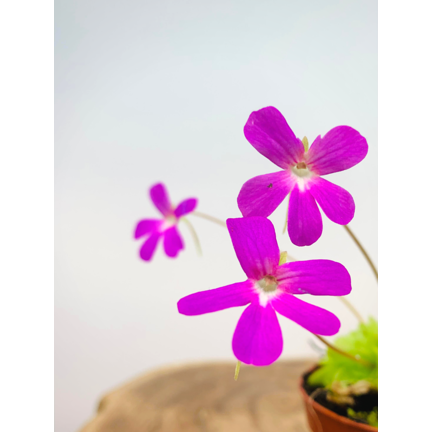 Fat-leaf (Pinguicula Vulgaris) is a carnivorous plant with 'fat leaves' and a beautiful purple flower. This innocent-looking plant is found in parts of Europe, including the Netherlands. The Fat Leaf is a fun, playful and an interesting and beautiful-looking plant for the home.
Pinguicula: The trap
The Fat-leaf's trap are the plant's fat leaves. The leaves of the Grease Leaf make a greasy and sticky liquid. The insects are lured by this sticky liquid, to which they stick on the leaves. After sticking the insects, the leaf rolls up. After this, the insects are digested and the carnivorous plant receives its nutrients. Did you know. The Fat Leaf is one of the only carnivorous plants to catch mosquitoes. The Sundew(another carnivorous plant) is also a real mosquito catcher.
Butterbur origin
The Fatleaf is found in different parts of the world. For instance, the Pinguicula Vulgaris is found in Europe, North America and Southeast Asia. With luck, you can even find this beautiful plant in the Netherlands, but the species is - unfortunately - very rare in the wild. Some species of Fat-leaf are hardy and are found in moist and nutrient-poor soils, such as swamps. Thereby, unlike most other carnivorous plants, the Fat-leaf is a climber. Thus, the plant can be found at altitudes of up to 1 kilometre!
Fat-leaf characteristics
Butterwort can grow up to 15 centimetres and has a beautiful purple flower of 16 millimetres. The carnivorous plant has glands in its leaves that secrete the sweet, sticky liquid. Some Vetle species hibernate and are also hardy. The Vetle species offered on our webshop are all Tropical species, and thus not hardy. The species we offer do not really hibernate. Even in winter, they grow nicely indoors. However, they will grow a little slower in winter than in summer. This is of course due to the Dutch winter climate. Want to know more about carnivorous plant care?
Fava leaf facts
Fat-leaf is widely used in folk medicine. For instance, the plant has properties that can help against nervousness. Moreover, the plant is used to prevent hair falling out. The name Vetle is derived from the Latin word 'Pinguis', meaning fat.
Read more
Close