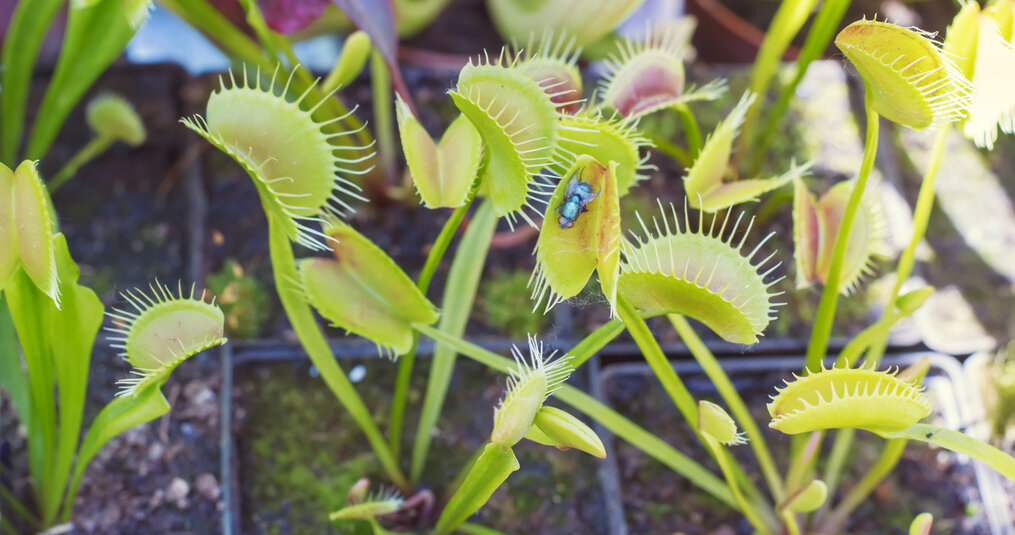 Because it lives in nutrient-poor areas, the Venus flycatcher has found a unique way to survive. The marsh floor consists mainly of nutrient-poor soil. No plants could normally live on this. The Venus flycatcher is one of the exceptions. The Venus flytrap has developed traps that catch insects, which are then processed into nutrients for the plant. This is how the name carnivorous plant came about.
The Venus flytrap (Dionaea muscipula) is not only fascinating but also one of the most famouscarnivorous plants in the world. The Venus flycatcher is found in the wild only in swamps on the east coast of the United States. You may now be wondering how this unique little plant can survive in a swamp? We are happy to explain it to you in this blog.
The trap and its structure
The Venus Flytrap's traps are unique and remarkably thick leaves of the plant which are located at the end of its long stems. This trap consists of two thick lobes that can quickly snap shut. The plant also has long protrusions on the outside of the trap, the purpose of which is to prevent the insect from escaping.
How the insect enters the trap
The insides of Venus flytraps have a beautiful red colour which, together with the nectar secreted by the plant, serve as perfect lures for any insect.
How does a Venus fly trap work?
The Venus fly trap is special because of its extremely fast reaction time. When the insect touches the inner hairs twice within 20 seconds, the trap closes at breakneck speed. It is therefore one of the few plants that can count. When the hairs are touched only once, the plant resets itself after 20 seconds. The protrusions at the edges of the trap also snap shut, making it impossible for the insect to escape. Would you like to know what kind of insects a carnivorous plant actually eats? Then read our interesting blog.
How does the Venus flytrap digest its prey
Once the insect is caught and the trap is completely closed, the plant secretes an enzyme that helps with digestion. The digestion process can take several days to a week. This of course depends on the size and and species. During this process, the plant absorbs nutrients from the insect. However, the insect's skeletons are left behind; these are indigestible for the plant. When the trap opens again, all you see are the crumbs of the remaining skeleton.
Why does the Venus flytrap eat insects?
As we mentioned earlier, the Venus Flycatcher is native to swamp areas. In these areas, the soil is poor in nutrients, including nitrogen. Because the Venus flytrap eats insects, this plant enables itself to survive in areas where other plants cannot. Would you like to know if carnivorous plants can also survive without insects? Then read this interesting blog.
Conclusion
We at Carnivory.eu are completely fascinated by this beautiful plant. This is partly because the Venus Flytrap shows a wonderful example of evolution and adaptability. The fact that the plant responds so lightning fast to touch and can thus capture and digest prey makes it so unique and the process so fascinating. This process has kept naturalists and scientists busy for years