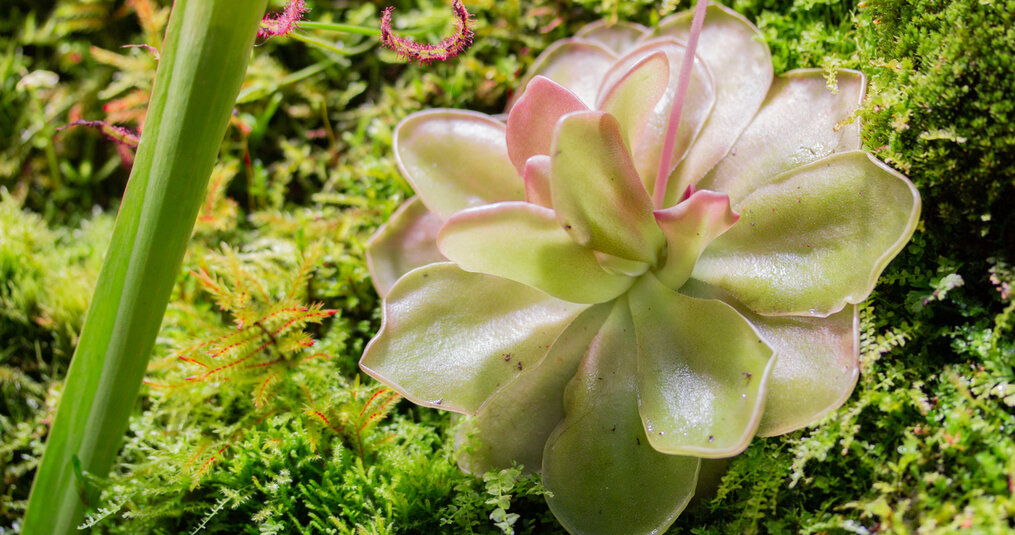 In this blog, we will take a closer look at the essential care to get a healthy and happy Pinguicula. Among other things, we will talk about light, water, temperature, nutrition, and repotting.
Pinguicula, also known as the fat leaf, is a beautiful and fascinating carnivorous plant known mainly for its sticky leaves. The Pinguicula species can be found in North, Central and South America, but also in Europe and Asia.
How much light does my Pinguicula need?
Pinguicula, like other carnivorous plants, needs a lot of light to grow well. However, do not put your Pinguicula in full sunlight, as this can burn your plant's leaves.
Give the plant plenty of indirect light, preferably at least 4 to 6 hours. You can also let your Pinguicula make use of the sun in the morning. If you don't get much sun on a daily basis, you might want to look into an LED grow light, for instance. Are you curious about the overall care of your Pinguicula? Then be sure to read this interesting article.
How much water does my Pinguicula need?
Compared to other carnivorous plants, Pinguicula does not need much water. The soil does not need to be constantly wet, as this species is more susceptible to root rot. So you only need to keep the soil slightly moist. Always use distilled, demineralised or rainwater to water your Pinguicula. Tap water contains too many harmful minerals that the plant absorbs and that can cause problems in the long run.
What about temperature and humidity?
The largest number of Pinguicula species grow best at a temperature between 17 and 24 degrees Celsius. Most Pinguicula species prefer a cooler environment for their resting period, however, the species we offer are not hardy but tropical. Therefore, we recommend keeping your Pinguicula indoors in winter. Would you like to put your Pinguicula outside in summer? Then keep in mind that the temperature at night should not drop below 17 degrees Celsius.
It is important that Pinguicula has constant humidity available. This is very important for growth. Would you like an indication of how high the humidity level should be? This is between 40 and 70 percent. If you cannot provide this, a humidifier near your Pinguicula will do the trick.
What does my Pinguicula eat?
Pinguiculas are carnivorous plants that trap insects with their sticky leaves. They can get the nutrients they need from their prey. However, if your plant does not catch enough insects because it is indoors, you can supplement it with small insects such as fruit flies. Be extremely careful with this and try to avoid damage to the plant. Do you also want to know whether your carnivorous plant needs extra nutrition in addition to its captured or given food? Then read our blog.
Should I repot my Pinguicula?
It is important to repot your Pinguicula every year to two years. This ensures that your plant always has enough room to grow and it also refreshes the nutrient-poor soil. When repotting, always keep a mixture of 50% peat and 50% perlite ready and use this to put the plant in.
Repot your Pinguicula preferably at the end of the dormant period, when the plant wakes up and is ready to grow again. Take care not to damage the roots and carefully remove the old potting soil before repotting the plant. When you have repotted the plant and it has the energy to grow, the plant can reward you with a beautiful flower.
Does my Pinguicula have a resting period?
Yes, every carnivorous plant has a rest period that falls during the winter months. During this rest period, Pinguicula produces smaller non-sticky leaves. The period is essential for the health and growth of your plant. Normally, it is important to move your carnivorous plant to a cooler space.
However, as we mentioned earlier, the Pinguicula in our webshop are tropical. For these plants, it is essential that the temperature does not drop below 17 degrees. Also give less water during this period. As soon as the plant starts growing actively, you can increase the amount of water again and keep the soil moist. By the way, would you like to know more about the winter dormancy of carnivorous plants? Then read our blog.
Conclusion
We at Carnivory.eu agree that keeping a carnivorous plant like the Pinguicula is an extremely fascinating hobby. Especially if you can give your succulent the optimal living conditions, you will see a happy and beautiful plant grow and bloom, which you in turn can enjoy immensely.
We would therefore like to share this hobby with everyone. If you have always wanted a Pinguicula, be sure to have a look at our product range.